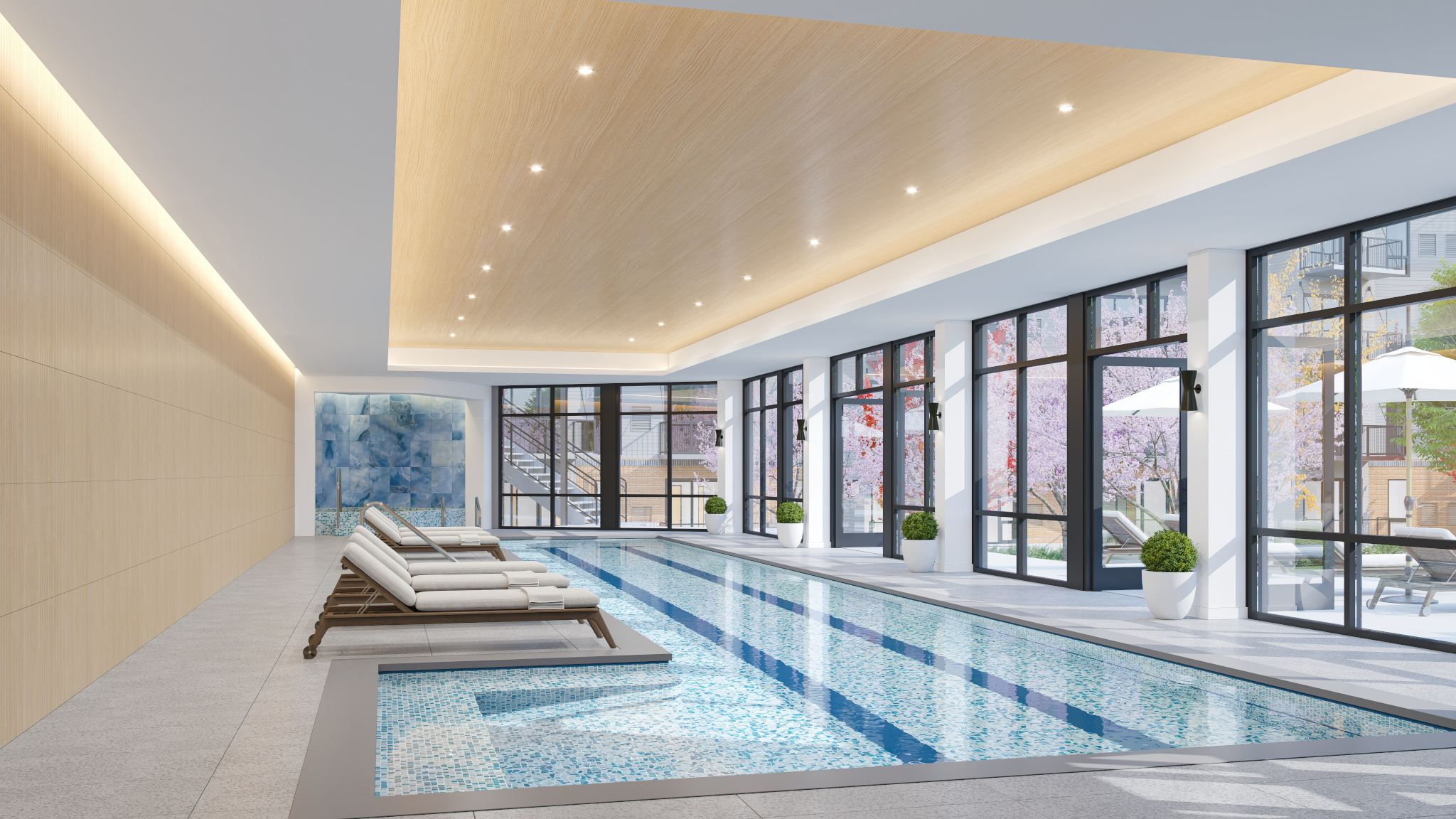 Amenities
Residents of The Fred have access to best in class amenities that make resort style living a lifestyle, every day
Indoor pool with sauna, hot tub & gathering areas
Splash around in the pool, hang out in the hot tub, sweat it out in the steam-sauna
Indoor sport court
Shoot hoops, spike a volley, slap a puck, duck duck gray duck!
Multisport & golf simulator virtual reality room
Get your VR game on. What'll it be? Golf? Baseball? Zombie Dodgeball!
Large indoor gym with cycling studio and yoga studio
Work it out on our state-of-the-art Technogym equipment, soak up natural light in our airy fitness studio, feel those good vibes
Outdoor sport court
Meet up for pick up pickleball, basketball or impromptu parkside yoga
Outdoor terrace with movie screen, adjacent to pub room and games
Take in your favorite flicks under the stars, enjoy a nightcap, throw an indoor-outdoor party
Rooftop deck and fire pits at the Club Room
Relax on the rooftop, soak up the sun, warm up around the fire pits, take in the night sky
Gameroom with billiards & various pub/arcade games
Gather with friends, play a game of billiards, test your hand at classic arcade games
Two-story grand entry lobby
Cozy up next to the hearth, meet up with visitors, hang out with friends
Resident Boardroom
Change up your ZOOM background, spread out your work, dream up your next big idea
Featured Clubroom with fireside hearth, outdoor terrace and cooking area
Enjoy a seamless indoor-outdoor space: host your friends (room for lots of them!), grill amazing fare, cozy up to the bar, stargaze
Sky Lounge chef's kitchen + den with endless views
Cook up a storm, entertain friends, host a cooking class
Library + a dozen private work from home study spaces
Escape to a quiet setting, get lost in a book, get down to business on a workday
Guest room for overnight guests
Offer a private space to family and friends, make visits more fun for everyone
Direct access to 9 Mile Creek Regional Trail + Fred Richards Park
Go for a run, take a walk, breathe in the fresh air
Great lawn game space
Haul out the corn hole, set up for lawn bowling, throw down a blanket and bring on the picnic
Bike Lounge & pet wash area
Wash your furry family members, maintain your bikes, keep your gear securely stored
Dog run
Meet up with other pups and their people, find peace of mind on our fully-irrigated dog run, enjoy the fresh air
The Fred pairs modern, state-of-the-art amenities with effortless access to nature.